beautiful temple setting

aprox. 50-100 attendees

power point presentation

author will sign books following presentation

light refreshments served at the end
---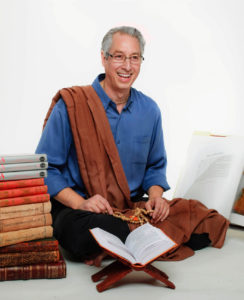 Emmy Award-nominated producer Joshua M. Greene retired in 2014 from teaching in the Religions Department of Hofstra University in New York. His biographies of Holocaust survivors and war crimes litigators have been translated into several languages. His documentary films are seen on PBS and Discovery.
SWAMI IN A STRANGE LAND – A CLASSIC HERO'S JOURNEY
Joshua M. Greene speaks on his biography of Srila Prabhupada
date – friday, april 14
time – 7:00 – 8:30pm
location – the bhakti center / temple room 3e
admission – free of charge
---
When we accept the call to spiritual adventure, we inherit the life we were destined to live. That is the message of Swami in a Strange Land, a power point lecture on the life and mission of His Divine Grace A.C. Bhaktivedanta Swami Prabhupada by Joshua Greene (Yogesvara Das), based on his biography of the same name (May 2016, Mandala Publications). The presentation explores the future of Vaishnava culture.
The presentation features archival imagery and a dramatic summary of Prabhupada's success in elevating devotion to Krishna from the ashes of history to a world stage. By explaining in clear terms the progression of a classic hero journey, author Greene inspires audiences to see themselves as participants in the resurrection of humanity's spiritual origins and the movement to a more enlightened future.