a rare opportunity to spend the day with best selling author and spiritual teacher Radhanath Swami
friendly and welcoming environment
heart moving kirtans
a host of engaging workshops led by experts in their field
group size approx. 100-150 people
great meals above the city on our rooftop garden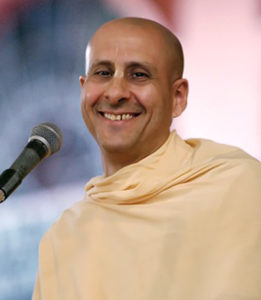 Radhanath Swami is a guide, community builder, activist, and a New York Times bestselling author. He has been a Bhakti Yoga practitioner and a spiritual teacher for more than 40 years.
Recognized throughout the yoga community as a true "teacher's teacher," Dana Flynn brings an ecstatic expression of movement, music, and community to her practice and her students, as the co-founder of Laughing Lotus Yoga Centers, located in New York City and San Francisco, and Lotus Flow Yoga.
Syama Masla was raised in a family of Bhakti yogis and now serves as the director of Yoga at The Bhakti Center. In her classes she places a strong emphasis on tapping into the rhythm of breath as it guides movement.
Born and raised on a path of Bhakti Yoga, Dhyana Masla weaves her background of Western Psychology with her experience and knowledge of eastern mysticism to bring a holistic approach to living a balanced and empowered life. She leads Yoga Teacher Trainings, workshops, retreats, and pilgrimages around the world.
Virabhadra Ram serves as the Executive Director of The Bhakti Center. He was raised in a family of Bhakti yogis and trained from his youth in kirtan and bhakti wisdom. Trained in an ancient master disciple lineage from India, Vira is also an expert practitioner in one of the world's most powerful stress eliminating sciences, Marma Therapy.
Jai Giridhari is the loving husband of Syama, yoga teacher, kirtan lover and director of  both the Meditation and Theatre departments at The Bhakti Center. Blessed by so many wonderful teachers and a few close mentors, he aspires to live a simple life with high thinking.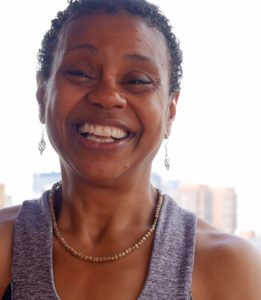 Julie Pasqual is honored, humbled, and inspired to teach at the Bhakti Center. She strives to, as the great yoga master BKS Iyengar said, "Stretch the intelligence throughout the body", so that ultimately, the students can connect to the deep well of love and compassion that lies in each of us.
a fundraiser for The Bhakti Center
(also featuring Dana Flynn, Syama, Dhyana, Virabhadra ram, Jai Giridhari, & Julie Pasqual)
date – saturday, may 20
time – 7:00 am – 5:30 pm
location – the bhakti center
admission – suggested donations
Contributor – $108
Benefactor – $250
Patron – $400
(see more donor information below)
---
schedule
7:00 – 8:00 am – Deep Into the Holy Name with Jai & Vira: A powerful meditation session taking the mind to higher vibrations through mantra.
8:15-9:15am – Devotion in Motion: Join Laughing Lotus founder, Dana Flynn, for a Lotus Flow style of yoga class around the theme of devotion, mixing poetry, movement and music in a way that is raw and genuine, and somehow makes it all fit together in a warm, welcome and inclusive atmosphere.
9:30-10:30am – Breakfast: stewed apples/ chia oatmeal/ fruit
10:30-11:00am – Kirtan: The entire group comes together as one through a powerful musical meditation of mantra.
11:15am-12:45pm – Dharma talk by Radhanath Swami: Join the best selling author and leading proponent of Bhakti-yoga for a discussion on how, by focusing on three aspects of spirituality – sadhana (personal practice), sanga (spiritual community), and seva (service), one can transform their spiritual life, even while living in a modern urban environment.
1:00-2:00pm – Lunch: Kitcheri, Baked Veggies with Tahini Sauce, Biscuits, Salad, Carrot cake
2:00-2:30pm – Bhakti Center Slide Show: For those interested in becoming stronger supporters of The Bhakti Center, this slide show will help you understand where we were, where we have come from, and future goals,  as well as how you could help, both in terms of funds and services.
Option 1 – Relationships: Exploring the 6 Loving Exchanges of Bhakti with Syama & Dhyana – We explore the value of spiritual association (sangha) and how it inspires and encourages us to maintain our spiritual life. We learn the six symptoms of a loving relationships, explore the necessity of such exchanges to develop the support, strength, and determination to succeed in spiritual life, and make a plan to increase the practice of these exchanges.
Option 2 –  Asana and Storytelling with Julie Pascal – In this workshop we will hear of the very embodiment of service – Hanuman,  explore questions such as, "If you were given great powers,  would you use those gifts for personal gain live to serve others with them?  Then workshop participants will move through yoga poses that will open their hearts, and leave them ready for Hanuman-like service!
4:15-5:00pm – Questions & Answers with Radhanath Swami: A special opportunity to place questions to an important spiritual leader.
5:00 – 5:30pm – Closing Kirtan: Wrap up the transformation of the day through joining together in musical mantra.
The Retreat
The yoga tradition is a storehouse of treasures for the body mind and soul. The Bhakti Center's Inner-City Yoga Retreat is a day-long experience of some of those treasures shared by a unique group of teachers, including world renowned spiritual leader Radhanath Swami, Laughing Lotus Yoga founder Dana Flynn and The Bhakti Center's own talented staff including Syama & Dhyana Masla, Virabhadra Ram, Jai Giridhari and Julie Pasqual. It will be a great day of practicing and learning with teachers who have each spent many years walking an authentic yoga path. The retreat will include asana, meditation, kirtan and a spiritual themed drama featuring the Bhakti Center's drama troupe b centered theater and fantastic vegetarian meals.
---
The Fundraiser
The Inner-City Yoga Retreat is an Opportunity to Support The Bhakti Center in its Efforts to Take its  Service to the Next Level
O
ver the past months The Bhakti Center has put some of our long-term financial challenges in the review mirror. A lot of 
good new things are happening now and w
e're poised to launch some great new programs & initiatives. But first we
 want to make some important improvements to the building.
Your donation to participate in the retreat will go to…
Building a 1st floor reception/info area to welcome and serve guests 

Building a lounge area in the back of the Temple 

Repainting the temple room, hallways & 5th floor Studio 

Repairing our leaking roof 
If you feel benefited by the programs and community at The Bhakti Center, please consider making a genourous contribution.
For The Inner-City Bhakti Retreat we ask for a donation on one of three levels of your choice.
Contributor – $108
Benefactor – $250
Patron – $400
All students must be registered online for this class.