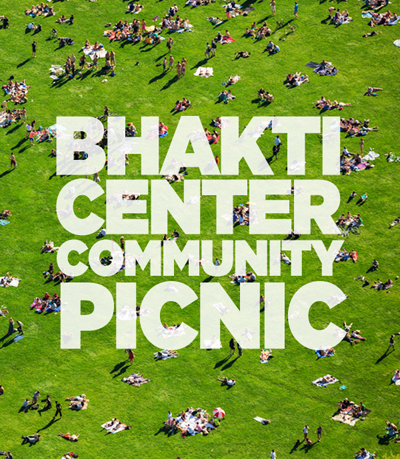 a relaxing and friendly gathering
potluck vegan picnic
fun & laughter
sunset
BHAKTI CENTER COMMUNITY PICNIC
date – sunday. june 25
time – 4:30pm – sunset
location – rockefeller park (north end of battery park city)
admission – free of charge
---
Summer time has arrived and we're excited to share with you an event that's all about celebrating our community. The Bhakti Center Community Picnic is a chance to appreciate the park, the river, the grass, the sky, and the company of like-minded souls. It's a opportunity to, spend time with friends and make new friends, as we take in the Sun together and then watch it set.
This is a Potluck Picnic so please bring a vegan dish to share, lawn games and friends.
---
DIRECTIONS
Public Transportation is highly recommended as parking is difficult.
SUBWAY
Battery Park City is served by most subway lines.

1/2/3 or A/C to Chambers Street
Walk west along Chambers and cross West Side Highway into BPC.
Convenient to Rockefeller Park, The Irish Hunger Memorial, Teardrop Park, 6 River Terrace, the Ball Fields, and the Community Center at Stuyvesant High School.

4/5 line to Wall Street, or the 1 or R line to Cortland Street
Walk west along Rector Street and cross the pedestrian bridge into BPC.
Convenient to Esplanade Plaza, Kowsky Plaza, West Thames Park, The Upper Room, Rector Park, North Cove and the Police Memorial.

4/5 to Bowling Green, R or 1 to Whitehall Street/South Ferry or J/Z to Broad Street or R line to Rector Street.
Walk west until you pass Historic Battery Park and enter BPC.
Convenient to For Wagner Park, South Cove, Pier A Plaza, the Museum of Jewish Heritage and the Skyscraper Museum.
Pedestrian Bridges cross West Side Highway at Chambers Street and Rector Street.
BUS
The M9, M20, and M22 buses all stop in Battery Park City
Please always check with www.mta.info for up to date information regarding subways and busses.
PATH TRAIN
World Trade Center stop on the PATH Train
A pedestrian tunnel connects the World Trade Center PATH Train Station to the Winter Garden at Brookfield Place.
Convenient for North Cove, Esplanade Plaza, Kowsky Plaza and the Police Memorial.