Jai Giridhari
Jai Giridhari is the loving husband of Syama, yoga teacher, kirtan lover and director of the Theatre department at The Bhakti Center. His whole life he had been looking for a cause and something to believe in. Years of college sports tuned his body but left his heart empty. Years of theatre trained his mind but made him wonder who he truly was.Years of healing arts stabilized his lifestyle….. but he was still looking for more.
In 2005 in a small village restaurant in Peru he stumbled into a celebration of Lord Krsnas birthday! His heart was stolen by the practice of Bhakti ever since!!! He received formal initiation from Radhanath Swami in 2012. Blessed by so many wonderful teachers and a few close mentors, he aspires to live a simple life with high thinking.
bhakticenter.org
Syama Masla
Syama Masla was raised in a family of Bhakti yogis and now serves as the director of Yoga at The Bhakti Center. She teaches weekly yoga and meditation classes as well as 200 hr yoga teacher trainings 3-5x per year. She was given formal initiation in the Gaudiya Vaishnava tradition by Radhanath Swami in 2014.
Syama is a life long vegetarian and lover of animals. In her classes she places a strong emphasis on tapping into the rhythm of breath as it guides movement. With over 1000 hours of certification in both Hatha and Vinyasa yoga, she keeps the practice rooted in its tradition and uses creative sequencing, inviting her love of dance and rhythm.
bhakticenter.org
Dhyana Masla
Dhyana Masla – Influenced by the Vaishnava tradition, Dhyana brings the depth of inquisition into her classes offering the opportunity for her students to cultivate intimate relationships with their multi-faceted Humanness while simultaneously taking a step back, a step deeper into the Truth of WHO and WHAT we really are; beyond the stories, the fears, and the limitations. Her teaching style is a unique blend of "challenging yet nourishing" Vinyasa inspired sequencing with fluid movements and powerful breath. After studying Ayurveda extensively with her father in Florida, Dhyana received her bachelors degree at Naropa University in Psychology and Traditional Eastern Arts with a focus in Yoga. Born and raised on a path of Bhakti Yoga, she weaves her background of Western Psychology with her experience and knowledge of eastern mysticism to bring a holistic approach to living a balanced and empowered life.
Dhyana leads Yoga Teacher Trainings, workshops, retreats, and pilgramiges around the world.
bhakticenter.org
Iraimer
Homegrown on the beautiful west side of Puerto Rico, Iraimer is a dancer-artist and yogi with an emblazoned passion for the ethereal qualities of nature, meaningful spiritual connection, movement as creative expression, and music as a trigger for corporal self expression. After many years of dancing, she found yoga and was instantly amazed by both the spiritual and physical benefits it reveals.
After completing her 200hr training at The Bhakti Center NYC, she dove into the exploration of mind-body-soul connection. She encourages her students to rise above their current state of awareness so they can begin to experience higher states of appreciation by accessing all the resources available within.
Iraimer is beyond grateful to teach at The Bhakti Center and she hopes to create a safe space for her students to reconnect with themselves and their environment.
bhakticenter.org
Emilie
Emilie received her 200 Hour Yoga Vinyasa Certification through The Bhakti Center. Her interest in yoga sparked while attending Virginia Commonwealth University where she studied Anthropology and Religion. That interest blossomed into a deep passion and dedication. Her practice goes beyond just the physical aspects of yoga and continues to go deeper in the teachings of yoga.
Emilie's teaching style has been described as "warm and nurturing". She gains perspective through her personal practice and by taking a variety of classes at home, and while traveling. Her classes weave the integration of breath and mindful movement, focus on grounding, balance and alignment and the mind-body-soul connection. She enjoys biking around the city and playing ping pong with her husband.
bhakticenter.org
Kia
After being born and raised in the East Coast, Kia spent much of her adolescence in Saudi Arabia. Growing up around a diverse variety of devotional traditions, she brings a creative and unique perspective to her practice. Her artistic practice inspired Kia to move to New York City to study art and culture at the New School. Her arrival in New York proved to be powerful and transformative, she was introduced to Hatha yoga under the teachings of Dharma Mittra during college. Asana practice totally transformed her understanding of the connection between the mind, body, and soul. Yoga ignited a deep sense of wonder about the varieties of healing experiences that the physical body can journey through.
Her relationship and love for Bhakti yoga works to deepen her connection to her own roots and encourages her to love of serving others. Since completing her 200 RYT through the Bhakti Center in 2016, Kia has been making art, working with children, practicing Reiki and diving deeper into the healing arts. Kia's classes are focused on awareness of the breath while making shapes, using intuitive movement and music to touch the soul and explore the space of light within.
bhakticenter.org
Tiffany Mehdizadeh
A California native, Tiffany Mehdizadeh is a Bhakti Center certified yoga instructor based in New York City. She began practicing yoga in 2008, having been drawn to the mind-body-soul connection. In 2015 Tiffany was introduced to The Bhakti Center and found a style that spoke to her the loudest, touching her heart, soul, and mind. It was here that she truly began to understand that the practice of yoga extends far beyond the physical. This became a turning point in her journey.
In the spring of 2016 Tiffany completed her 200 hour teacher training course under the guidance of Dhyana and Syama at The Bhakti Center. This experience deepened her practice, spirituality, service, and love to even greater heights. Tiffany brings that heartfelt warmth and loving energy back into her classes, which embrace a dreamy combination of hatha and vinyasa deeply rooted to the breath. They are designed so that students obtain a deeper, more meaningful connection with themselves and the world around them, allowing for oneness and union beyond the mat.
Teaching at The Bhakti Center is a dream come true for Tiffany and she feels blessed everyday to be a part of such an uplifting and inspiring community. She can usually be found on a yoga mat, at Kirtan, or listening to Tame Impala, Radiohead, or Hot Chip.
bhakticenter.org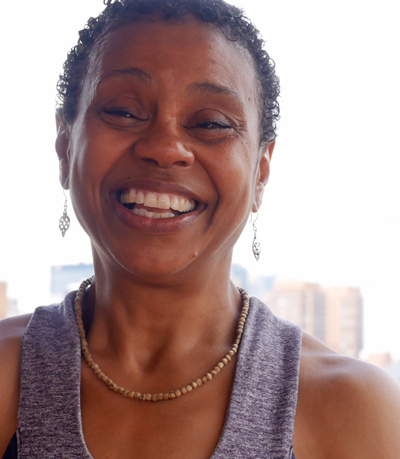 Julie Pasqual
Julie Pasqual is honored, humbled, and inspired to teach at the Bhakti Center. She is a 500 RYT, having received her 200 hour certification from Devotion Yoga with Jillian Pransky and Carrie Parker, and her 300 hour from Yogamaya with Stacey Brass and Bryn Chrisman.
In her classes Julie strives to, as the great yoga master BKS Iyengar said, "Stretch the intelligence throughout the body", so that ultimately, the students can connect to the deep well of love and compassion that lies in each of us.
bhakticenter.org
Michael Ceragno
Michael Ceragno is a teacher who strives to bring the practices of ashtanga and bhakti yoga together to give his students a challenging, thought provoking, yet blissful experience. He believes that bringing these two lineages together in a practical way gives people the tools to live a more peaceful, compassionate, yet confident life on and off the mat. He has studied and trained with Stephanie Miller, owner of Bamboomoves Yoga, Eddie Stern of Ashtanga Yoga New York, and Raghunath Cappo.
Aside from these amazing teachers he is also inspired by the teachings of Dhanurdhara Swami, Radhanath Swami and A.C. Bhaktivedanta Swami Prabhupada who are a few of the greatest teachers of Gaudiya Vaishnava bhakti. It is their teachings that constantly inspire him to grow as a person and serve his community.
bhakticenter.org
Alexandra Seijo
Alexandra Seijo, is an accomplished yoga teacher and practitioner. Her interest in 12 Step Recovery was born from her experience of growing up with addiction in her family and her own personal struggle. Her introduction to Bhakti-yoga was the seed that started her own journey to recovery.
"For many years I've contemplated the parallels between the wisdom of the yoga tradition and 12 step recovery, and intertwined them into my personal practice to find an easier, softer way. In recovery we have a second chance to be receptive to the miracle of life, to try to love all living beings, and to feel the power of God while practicing integrity, honesty, and patience – one day at a time."
Alex holds a 500-hour yoga teacher certification from Pure Yoga and has studied Yoga of 12 Step Recovery under the program's founder, Nikki Myers. She is a long-standing member of the recovery community.
Her favorite verse is Bhagavad-gita, 6:30:
yo māṁ paśyati sarvatra / sarvaṁ ca mayi paśyati
tasyāhaṁ na praṇaśyāmi / sa ca me na praṇaśyati
"For one who sees Me everywhere and sees everything in Me, I am never lost, nor is he ever lost to Me."
bhakticenter.org
Callann
Like many, Callann began Yoga at a young age under the belief it was merely a physical practice to help improve other sports, specifically her soccer game. What she discovered was much more: practical tools to live a happier life and manage feelings of anxiety, tension, and fear.
After a move to NYC in 2006 and a few traumatic injuries, Yoga was the constant grounding reminder to honor the meaningful things in life: spirit, connection, love. It was through her practice as a student at both the Bhakti Center and Stanton Street Yoga that she was inspired to become a certified Yoga Teacher in order to more deeply learn the spiritual, philosophical, and physical teachings of yoga and share them with others.
Callann enjoys teaching Vinyasa style group classes as well as tailored private sessions designed to support curious beginner students or advanced Yogis looking to deepen their practice.
bhakticenter.org
Netchem
Netchem started practicing the physical side of yoga when she was 19 years old as a way to cultivate self love. Through her practice she was able to start healing herself and work through a lot of anxiety and depression that she was carrying.
She found the path of Bhakti yoga in 2013 and found herself totally hooked on the process of mantra meditation. Began practicing the asana practice with her teachers Syama and Dhyana two years ago and haven't looked back since!
She completed her 200 hr yoga teacher training with the Bhakti Center, and all the amazing teachers there, in 2016!
bhakticenter.org
Alexandra Moga
Alexandra Moga began practicing Sahaja yoga Kundalini meditation at the age of 7 under the guidance of her aunt. At 15, she took her first yoga class and found the practice perfectly served her natural passion for movement and innate interest in and dedication to spirituality.
In 2010, she completed the New York Yoga Society's teacher training at Ananda Ashram under the tutelage of Ashtanga-master David Hollander. After working with children in a Brooklyn charter school for three years, she was drawn to the the Bent on Learning Kids' Yoga training to better understand the subtleties of sharing yoga with children.
In 2012, she traveled to India and studied at the Mayapur Institute where the Bhakti Yoga path was revealed to her, adding a new facet of understanding to her practice and teaching. Alexandra's classes are influenced by Ashtanga yoga's physicality with a constant eye towards the other 7 limbs, which she considers indispensable to a complete yoga practice. Frequent contact with the Iyengar style has also informed how she teaches postural alignment for a safe and ease-full experience.
For the past three years, she has been diving into the Kundalini method and has been incorporating it in her classes to help students connect more deeply and vividly to their inner stillness and power. She is grateful to be serving The Bhakti Center community and bows to the many teachers who have guided her ever-closer to understanding yoga, the divine, and how to be of service; namely: her mama, her aunt, Raghunath, Dhanurdhara Swami, His Holiness Radhanath Swami, and His Divine Grace A. C. Bhaktivedanta Swami Prabhupada.
bhakticenter.org
Lauren Baptiste
On Lauren's first journey through India in 2012, kundalini meditation inspired her to enhance her spiritual life. Upon arrival back in the US, she gravitated towards yoga and eastern homeopathy. A few years later, Lauren found The Bhakti Center/Stanton Street Yoga, which comprised of all of the elements she had been missing from India. Since joining, she immersed herself entirely by steadying her yoga practice, consulting for the studio, attending kirtan and participating in community groups.
In 2017, Lauren completed her 200 RYT from The Bhakti Center, empowered to share this gift of yoga with the community. Although Lauren's interest for yoga began in 2012, her love for health and wellness stemmed from an early age. She is also a running coach, Reiki practicioner and health advisor.
Lauren is a full-time financial consultant and CPA. Despite the stress and rigidness from the corporate industry, yoga helped her pave the way to a path of love, service and devotion (bhakti).
Lauren brings creativity, levity and light into each yoga class. Her style integrates power and allows for vulnerability, creating a space for all to thrive.
bhakticenter.org
Kevin Tobar
Kevin is a lover of life and seeker of wisdom. He began his search as a teenager through Martial Arts and Buddhism at the Shaolin Temple in Queens, NY. After an injury, Kevin turned to yoga as a healing aid and fell in love with the physical practice. In 2010 Kevin lived in India for a year and connected with the spiritual side of yoga through his studies of Vedanta and yoga philosophy. He continued living abroad for many years and in 2015 he finally returned to New York where he completed his 200 hour teacher training at Laughing Lotus and has been teaching ever since.
Kevin's love of kirtan and mantra led him to the Bhakti Center in 2016 where he began to connect deeply with the practices of Bhakti Yoga and the teachings of the Gaudiya Vaishnava tradition. In these teachings Kevin felt that his search was finally over and that his spiritual path had been revealed to him.
Kevin's classes are full of soul, dynamic transitions, mudras, mantras and flight! He teaches from his personal practice that focuses on a grounded approach to self-love and enlightenment.
bhakticenter.org
Rukmini
Born and raised in the culture of Bhakti, Rukmini finds joy in living and sharing a lifestyle that is deeply rooted in ancient wisdom, and practical lifestyle application She has somehow find a balance between her passions of design/art/yoga. She is inspired by her own heritage, and the deep lessons that it can share with the world. when she's not practicing yoga at The Bhakti Center, you can find her painting watercolors in her apartment (check out her book, 100 Obscure Emotions).
bhakticenter.org
Susan
Susan is an RYT 200 based in LES. She got her nickname, Bhakti Butterfly, when she graduated from her YTT at The Bhakti Center. Susan was fascinated and drawn to the teaching of Bhakti yoga from day one and quickly dived deeply into the practice and transformed her life.
Born and raised in Shanghai, she is a gypsy at heart and has always been looking for the meaning and purpose of life. After studying in different fields and living in different parts of the world - including living onboard a cruise ship, she followed her heart back to LES and found her community. Inspired to serve, to tell stories and to share the concept of sustainable living, she became a yoga teacher. She believes when you open up your heart and mind, and when you trust the universe, life will take you on the right path and your story will unfold in a perfect way.
bhakticenter.org
Doyal
Doyal is a lover of music and kirtan who finds his deepest spiritual connections through melodic prayer. Having spent 10 years living in ashrams on both the west and east coast, he lives now in Brooklyn with his wife Rasika Gopi and serves as the Program Director at the Bhakti Center. In 2017 he completed his 200 hour Yoga Teacher Training from Supersoul Yoga. He also studies Social Work and Mental Health Counseling at CUNY Hunter.
bhakticenter.org
Missy
Missy Kabinoff found herself at the Bhakti center after many attempts to find a "spiritual home" in NYC. Her father, a karate teacher and a product of the hippy generation influenced her love of Eastern religious philosophies as well as musicians like Jefferson Airplane and Bob Dylan. Her upbringing shaped her future career as a teacher of theology in World Religions to high school students.
Missy began teaching yoga two years ago as a gym elective to her students after completing her teacher training at the Bhakti Center. She has had the honor of watching the practice transform so many deserving teenagers and hopes to continue bringing students to Bhakti. Missy loves a more athletic approach to working out. She found the perfect class when realizing that she had become a Jai class junkie for a heavily needed dose of Bhagavad Gita with an asana practice that left her body and mind stronger. Missy currently lives downtown with her two little pups named Olive and Tomato.
bhakticenter.org
Chase
Chase's life has been rooted in the practice of yoga. He began practicing asana as a child and undertook more involved study of yogic philosophy as a teenager. Chase has been teaching yoga asana and meditation since 2007.
His practical understanding of the philosophy and practice has lead him to create classes that are rooted in somatic awareness and functional alignment, within the container of a vinyasa flow.
bhakticenter.org
Petya Georgiev
Petya first discovered yoga in a workshop in college. At this time she didn't know anything about the science or philosophy of the practice but was attracted to the loving and healing energy her teacher brought to the small class. Not long after, she realized how much wisdom lies even further than the asana practice, and decided to go even deeper into its study.
Petya began to take more eastern philosophy courses in school, started reading sacred texts, experimented with different practices, and eventually embarked upon an internship, where she spent time living in a Zen monastery in the mountains. There, she continued to train through the Rinzai Zen lineage for numerous silent retreats and workshops in a more hard and strict discipline setting. However, as with many aspects of life, there is no "one-size-fits-all" when it comes to a devoted practice;
Petya returned to her feelings and found that the Bhakti path of yoga was aligning more with her inner emotional and heart centered side. Now, embedded in Bhakti, Petya continues to go deep through chanting, meditating, and using yoga
bhakticenter.org