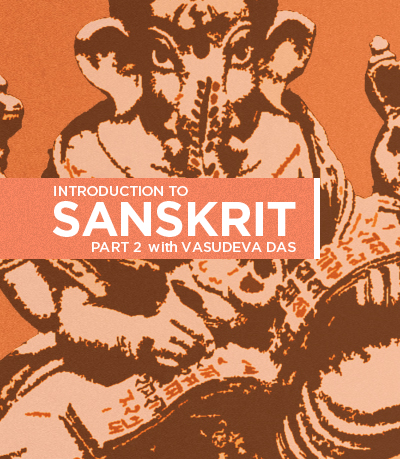 moderate class size with intimate, casual setting
academic presentation of the Sanskrit language
Study and recitation of Sanskrit as found in Vedic texts such as the Bhagavad Gita
friendly facilitator.  Questions welcome
personal study and homework is recommended to enhance learning

---
Vasudeva das has been studying classical languages since the tender age of twelve in his hometown near Amsterdam, the Netherlands. In 1998 he became a committed practitioner of bhakti-yoga, marking the beginning of 16 years of monastic life, dedicated to the study of Sanskrit texts and the teachings they imparted. In 2001-2002, he had the privilege of being under the tutelage of the late Gopiparanadhana das, a well-respected Sanskrit scholar in Vrindavan, India. Vasudeva das has a BA in Theology and Religious studies, and serves as the head pujari (priest) at The Bhakti Center, overseeing the temple worship.
INTRODUCTION TO SANSKRIT (PART 2)
a 3-part course with Vasudeva Das
---
date – three consecutive saturdays, december 2, 9, 16
time – 2:00pm – 4:00pm
location – the bhakti center / 2w
admission – suggested donation $50 – $80  (see donation policy below)
To attend this course one must have completed The Bhakti Center's course Introduction to Sanskrit part 1, or be familiar with the Sanskrit alphabet.
---
Part 2 of the Introduction to Sanskrit course primarily aims to familiarize students with some basic principles of Sanskrit grammar, and enables them to recite sacred verses (mantras) in different chandas (meters), an ancient practice that seeks to awaken our original spiritual nature through divine sound.
Sanskrit, the classical language of the Indian subcontinent, literally means "refined" or "cultured." Modern scholars hypothesize its origins stem from an Indo-European proto-language circa 3000 BC, but traditionalists revere Sanskrit as a divinely-revealed language, with roots that are timeless. It is therefore also known as deva-vani, "the language of the gods."
Until just a few hundred years ago, all important Indian theologians, scholars, philosophers, writers, and poets predominantly wrote in Sanskrit, contributing to a vast body of literature. The most important Sanskrit works are the four Vedas, the Upanishads, the Ramayan, the Mahabharata and the Puranas.
---
Course objectives include:
Reading, writing and pronunciation of the Sanskrit alphabet (continued from class 1)
Study of sandhi (euphonic combination of letters)
Introducing the eight Sanskrit cases and their meaning
Understanding important Sanskrit words
Recitation of verses in different chandas (meters) from the Gita, Bhagavatam, Brahma-Samhita and other texts
Verse memorization.
---
To take this course one must have completed the Introduction to Sanskrit part 1, or at least be familiar with Sanskrit alphabet.
Study Materials:  All materials will be handed out during the course.
For more information, please contact Vasudeva das:
---
The Bhakti Centers Donation Policy
The principle of bhakti is to do for others without motive. In yoga's spiritual culture a teacher shares the wisdom of the sacred texts as an act of devotion rather than for profit. This is especially important in the Bhakti tradition where teaching and learning are essential ways bhakti is exchanged in daily life. It also keeps affordable for all this most important activity, sharing knowledge for upliftment.
At The Bhakti Center we honor these important principles of education: that teaching is done purely out of love, and that it is kept affordable. Therefore, for all of our classes on the sacred texts we don't charge a set price.
So how do teachers survive? The answer is that pure teachers depend on God and good students honor that by sharing a donation from the heart and according to their means. Gratitude and generosity from student to teacher is also part of the yoga tradition.
For the class "Introduction to Sanskrit (Part 2)" we suggest a donation between $50 – $80, although all donations will be welcomed.
All students must be registered online for this class.