100 hour Yoga Alliance Certification
practice advanced asanas
learn to tell the stories of Radha, Krishna, Hanuman and more
loving environment
Experienced teachers
10-20 students in the group
service hours are required to graduate at The Bhakti Center – choose area of interest:
– Flower Garland Service
– Kitchen Service
– Cleaning Service
– Garden Service
---
Raghunath, (born Ray Cappo) was a Lower East Side hardcore/punk singer-songwriter icon, touring the globe in his teens. In a decadent music scene infested with hard drugs, negativity and intoxication he was an anomaly and a light propounding clean living, positive attitude and a vegetarian lifestyle, inspiring tens of thousands of fans internationally. In his youth he was fascinated with Eastern thought and took inspiration from Emerson, Ghandi, Thoreau, the Bhuddhist Sutras, the Bible and the Bhagavad-gita. He started practicing yoga in NYC in 1987 with the esteemed teacher Sri Dharma Mitra as well as at Shivananada Yoga. The pettiness of the music business coupled with the untimely the death of his father led him to India in 1988 where he dove deeper into the lifestyle and spirituality of India. He lived as a celibate monk in a Krishna Bhakti ashram for 6 years, intensely studying, meditating and living the life described in the ancient yogic texts.
In 1991, in the sacred village of Vrindavan, he was awarded the name Raghunath and two years later, in that same holy town, he was awarded diksha or the sacred thread, in recognition of his his study and dedication to the Bhakti path. Today Raghunath is an accomplished yogi in many styles and an inspirational force in the yoga community. Married with four children, he leads retreats, workshops and yoga teacher trainings, especially in Los Angeles and New York City.
---
Jai Giridhari is married to Syama. Raised in the U.P. of Michigan. It wasn't until I lived in the U.P. (Utter Pradesh) of India that I understood my calling. A Yoga teacher and a preacher! My whole life I'd been looking for a cause, something to believe in. Years of collegiate sports tuned my body but left my heart feeling empty. Years of Theater Trained my mind, but made me wonder who I really was. Years of Healing Arts stabilized my lifestyle but my heart still yearned for more. So I decided to become a monk! Enter my trip to The U.P. of India. Staying in the monasteries my heart was satisfied, my mind at peace, my body lost some weight, but my purpose was clear. Share these wonderful teachings! Blessed by so many wonderful teachers such as HH Radhanath Swami and a few close mentors, I aspire to live a simple life with high thinking. I'm grateful to share their wisdom in a most accessible way.
---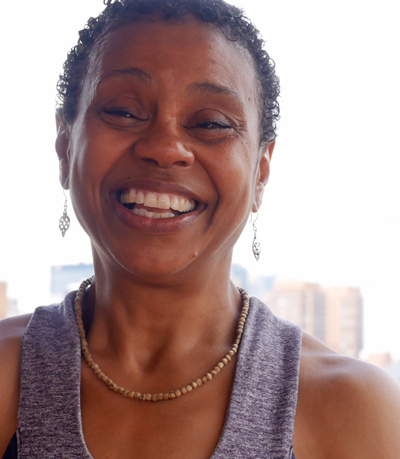 Julie Pasqual is honored, humbled, and inspired to teach at the Bhakti Center. She is a 500 RYT, having received her 200 hour certification from Devotion Yoga with Jillian Pransky and Carrie Parker, and her 300 hour from Yogamaya with Stacey Brass and Bryn Chrisman.
In her classes Julie strives to, as the great yoga master BKS Iyengar said, "Stretch the intelligence throughout the body", so that ultimately, the students can connect to the deep well of love and compassion that lies in each of us.
---
Syama Masla was raised in a family of Bhakti yogis and now serves as the director of Yoga at The Bhakti Center. She teaches weekly yoga and meditation classes as well as 200 hr yoga teacher trainings 3-5x per year. She was given formal initiation in the Gaudiya Vaishnava tradition by Radhanath Swami in 2014. Syama is a life long vegetarian and lover of animals. In her classes she places a strong emphasis on tapping into the rhythm of breath as it guides movement. With over 1000 hours of certification in both Hatha and Vinyasa yoga, she keeps the practice rooted in its tradition and uses creative sequencing, inviting her love of dance and rhythm.
---
Dhyana Masla brings the depth of inquisition into her teaching, offering an opportunity for the audience to cultivate intimate relationships with their multi-faceted Humanness while simultaneously taking a step back, a step deeper into the Truth of WHO and WHAT we really are; beyond the stories, the fears, and the limitations. She is the co-founder of Stanton Street Yoga in the Lower East Side of Manhattan as well as co-director of Yoga @ The Bhakti Center. Her teaching style is a unique blend of challenging yet nourishing  Vinyasa inspired sequencing with fluid movements and powerful breath. After studying Ayurveda extensively with her father in Florida, Dhyana received her degree at Naropa University in Psychology and Traditional Eastern Arts with a focus in Yoga. Born and raised on the path of Bhakti Yoga, she weaves her background of Western Psychology with her experience and knowledge of eastern mysticism to bring a holistic approach to living a balanced and empowered life.
100 HOUR YOGA TEACHER TRAINING ADVANCED ASANA
&

STORYTELLING

with Raghunath, Jai Giridhari, Julie Pasqual, Syama & Dhyana
date – monday, may 14 – sunday, may 20
time – 8:00 am – 6:00 pm
location – the bhakti center / 2w
admission – $1500 / early bird special for first 5 registrants: $1,250
registration – contact Syama at yoga@bhakticenter.org
---
Storytelling has always been an essential part of the yoga tradition as a means of entertainment, education and instilling higher values. This unique Teacher Training module brings together a staff of experts who share their insights and tips on the basics of good storytelling.  Whether you are teaching a yoga class, leading a meeting or presentation, or in a one-on-one setting, storytelling can serve as a compelling approach to communication. Through interactive activities, yoga classes and advanced asanas students will learn tips on to make a story work in an effective way.
---
Daily Schedule:
9:00 am – Mantras & Asana
11:00 am – Storytelling & Philosophy
1:00 pm – Lunch
2:00 pm – Practical Skills
4:30-6:00 pm: Advanced Asana
---
Pre-requisites
Before the training students must read the following books:
– Mahabharata by Andy Fraenkel
– Free Play: Improvisation in Life and Art by Stephen Nachmanovitch
---